Each church is an unusual place. A special place mainly because of what is happening in it. However, it is not just a place in itself. This building – clearly distinguishable from secular buildings – and its characteristic equipment, which is these to help the faithful to calm down and reach the sacrum. We have this in mind when working on the furniture and other furnishings of sacred rooms created in our carpentry workshop.
In our carpentry shop we make:
altars
organ brochures
crosses
feletrony
pulpits
baptismal fonts
confessionals
kneelers
sedilia and stalls
benches
catafalques
candlesticks
entrance portals
furniture for the sacristy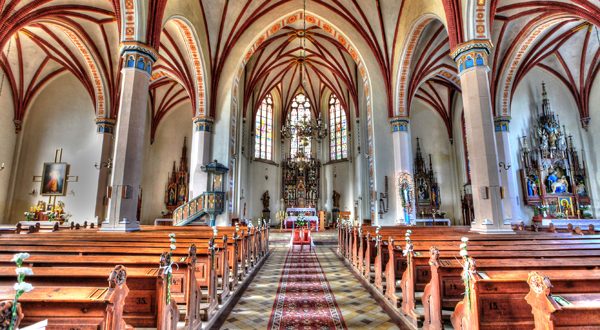 We approach each work related to church equipment very individually, adapting the furniture and furnishings made to the style of the church or the existing equipment. We pay a lot of attention to aeshetics thanks to our experience in artistic carpentry. Whether doing modern furniture or sacral furniture based on old designs – we always try to make"small works"of sacred art leave our carpentry shop.
For the production of sacred furniture we use the highest quality wood and wood-based materials, and we use materials from renowned companies to finish – we remember that sacred furniture is to serve many generations.
We have experience in working with conservation supervision and undertake the renovation and reconstruction of sacral furniture. You can read about the examples of renovation of sacral furniture that we have made here.
We are happy to provide any additional information regarding our services.
E. Wetzel Carpentry shop of furniture and buildings
ul. Przykop street 47, 87-300 Brodnica
phone.: +(48) 56 498 34 09
mobile.: +(48) 501 382 939